Events: Conferences, Meetings and Activities
(last update: 16.07.2019)
Please send information about meetings to the web publisher (Madeleine Buehler): Send e-mail

For information about past conferences, meetings and activities: Visit the Archive.
New Zealand Plant Protection Society (NZPPS) Conference 2019
13-15 August 2019, Auckland, New Zealand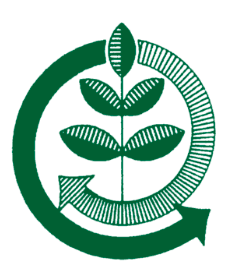 The NZPPS conference is New Zealand's prime venue for the exchange of scientific information on all aspects of plant protection. Oral presentations include invited speakers and summaries of papers published in our peer-reviewed journal, New Zealand Plant Protection (to publish a paper one author must be a member). The conference also features a lively poster session, with abstracts from posters also being published in the journal.
Website: https://nzpps.org

20th NSW Weeds Conference
26-29 August 2019, Newcastle, New South Wales, Australia.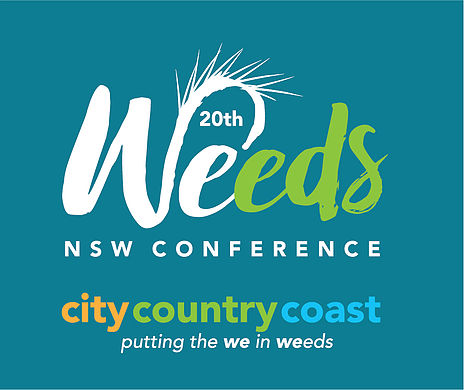 The 20th NSW Weeds Conference is a premier event for NSW weeds officers, researchers, market and industry analysts, government officials and policymakers working towards better weed management across the country. The conference will unite more than 250 weeds management experts in the beautiful beach-side city of Newcastle, Australia.
Weeds are a serious threat to Australia's native flora and fauna and add pressure to our economy. Recent technologies, policies and innovations are helping us manage weeds more effectively - but more work is needed.
This conference provides an opportunity for the NSW weeds management community to showcase new research and ideas for controlling and eradicating weeds. It's a chance to network and build strategic partnerships and invest in a shared vision for our industry's future.
Conference session themes include:
Measuring success in weed management
Weeds in the urban landscape
Weeds management in rural settings
Website: https://www.nswweedsconf.org.au

27th Asian Pacific Weed Science Society Conference (APWSS)
3-6 September 2019, Riverside Majestic Hotel, Kuching, Sarawak.
The 27th APWSS with the theme "Weed Science for Sustainable Agriculture and Environment" will focus on developments in the science of weed management and discuss challenges faced by researches, practitioners and consumers on problems related to weed management.
The conference will cover the following subjects:
Weed biology, physiology and ecology
Weed management in cropped areas
Weed management in non-cropped areas and aquatic system
Herbicide resistant weeds and herbicide tolerant crops
Allelopathy and allelochemical in weed management
Biological weed control
Climate change impact on crop-weed interaction and management Invasive weed management
Weed risk assessment, management and quarantine method
Herbicide behavior in soil and water Education and extension in weed science
Herbicide formulation and application technology
Novel herbicides and herbicide mode of action
Utilization of weeds for value-added products
Precision and advances in weed control technology
Website: https://www.apwss2019.org

6th International Entomophagous Insects Conference
09-13 September 2019, Perugia, Italy.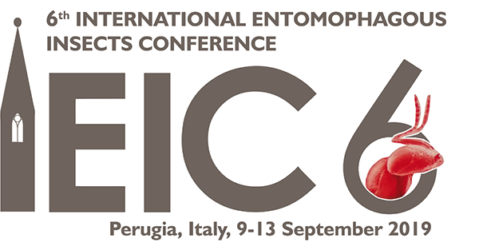 The International Entomophagous Insects Conference – IEIC (originated from the merging of the International Entomophagous Insects Workshop and the European Parasitoid Workshop), has reached its 6th edition.
The venue of the Conference is the ancient Monumental Complex of the San Pietro Abbey, which is the location of the DSA3 (Department of Agricultural, Food and Environmental Sciences) of the University of Perugia. The Abbey is also a stunning concentration of art and history.
The Conference is structured into 6 sessions, with keynote speakers, oral and poster presentations, coffee breaks and lunches. A social tour and gala dinner are also planned.
Website: http://www.ieic6.it

IOBC-Global Working Group meeting:
14th International Symposium Ecology of Aphidophaga
16-20 September 2019, Montreal (Quebec), Canada.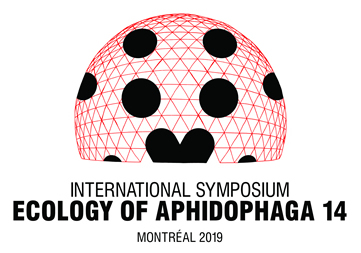 It will be 20 years since the last Aphidophaga was held in the province of Quebec in Canada and we are grateful to the Scientific Committee of Aphidophaga and the International Organization of Biological Control (IOBC) for choosing Montreal as the venue for the 14th Symposium. We are also grateful to the IOBC for supporting the meeting.
We look forward to welcoming you to Montreal in 2019 for Aphidophaga 14.
Topics include:
Life cycle, voltinism and diapause
Food relations (including non-aphid food of aphidophaga)
Behaviour
Systematics and morphology
Phylogeny
Population dynamics
Modelling
Distribution and seasonal adaptation
Parasitoids and pathogens of aphidophaga
Parasitoids and pathogens of aphids
Tritrophic interactions
Intraguild interactions
Invasive aphidophaga
Chemical ecology
Integrated pest management
Climatic changes
More Information: http://www.aphidophaga14.uqam.ca

Biocontrol Asia 2019
25-27 September 2019, Chengdu, Sichuan Province, China.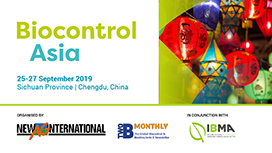 New Ag International, 2BMonthly and IBMA join forces once again to host the Largest International Event covering BIOCONTROL in ASIA .
The last edition took place in Bangkok in June 2017. Over 200 delegates from the whole Asia-Pacific region gathered to discuss the advancements of the biopesticides industry in the region.
Topics to be covered by international speakers:
Global Biocontrol Market
Regional Biocontrol Market in Asia
Industry trends in Asia
Biocontrol Regulatory in China and other Asian countries
How IPM is helping adoption of Biocontrol
Biocontrol as a business – adoption by growers and distributors
Biologicals Production and Formulation
Emerging technologies in microbials, natural extracts and semiochemicals
Synergistic uses of biocontrol and biostimulants
Website: https://lifesciences.knect365.com/biocontrol-asia


2nd International IOBC-APRS Workshop, Working Group "Predatory Mites as Biological Control Agents":
"Phytoseiid mites: As or beyond natural enemies"
16-19 October 2019, College of Plant Protection, Southwest University (CPP-SWU), Chongquing, China.

This workshop follows the successful first workshop held in 2016.

This workshop provides opportunities to bring together international students, researchers and pest management practitioners dealing with all aspects of predatory mites and other biological control related fields.
The theme of the 2nd workshop is "Phytoseiid mites: as or beyond natural enemies". This topic implies our interest and endeavor in utilizing predatory mite as biological control agents against more target pests, as well as excellent experimental materials of more fundamental and theoretical research. We will especially focus on how we should utilize rich predatory mite resources and develop the predatory mite research in the Asia-Pacific region.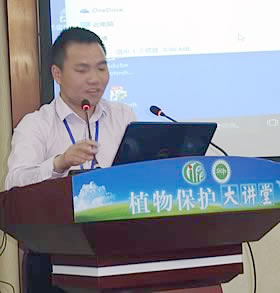 Scientific committee:
Xuenong Xu (IPP-CAAS)
Yulin Gao (IPP-CAAS)
Huai Liu (CPP-SWU)
Geoff Gurr (IOBC-APRS)
Zhiqiang Zhang (Landcare Research & University of Auckland, New Zealand)
Norihide Hinomoto (Central Region Agricultural Research Center, NARO, Japan)
Shingo Toyoshima (Kanaya Tea Research Station, Institute of Fruit Tree and Tea Science, NARO, Japan)
Titles for abstracts or posters email to Prof Huai Liu, liuhuai@swu.edu.cn, before July 30th, 2019.
Topics for contributed oral papers and posters include but are not limited to the following list:
Taxonomy, Phylogenetics and Evolution
Resource Survey, Optimization and Evaluation
Product Development and Application
Physiological Regulation and Gene Function
Accommodation will be at this star Haiyu Hot Spring Hotel, with a shuttle provided between the hotel and CPPSWU during the workshop.
More Information: 1st Circular (pdf)

Meeting of IUFRO WG 7.03.13,
Biological Control of Forest Insect Pests and Pathogens
6-8 November 2019 (with post-meeting field trip 8-11 November), Pretoria, South Africa.

Preliminary programme:
Tuesday 5th November: Arrival and registration

Wednesday 6th November: Morning and afternoon sessions + visit to FABI Biocontrol Centre + dinner

Thursday 7th November: Morning and afternoon sessions + banquet dinner

Friday 8th November: Morning session; leave for field trip; departure of other attendees not attending field trip
There will be a post-meeting field trip from 8-11 November.
The field trip will include exposure to South African plantation forestry, including visits to sites with infestation of some of the main pests of pine and eucalypts, such as Sirex noctilio, Leptocybe invasa, Gonipterus sp.2, as well as native insect pests. The field trip will also include exposure to some of South Africa's amazing native fauna and flora, with a visit to the Kruger National Park.
More Information: 1st Circular (pdf)
Website: https://www.iufro.org/science/divisions/division-7/70000/70300/70313/activities

XIX International Plant Protection Congress (IPPC2019),
"Crop Protection to Outsmart Climate Change for Food Security & Environmental Conservation"
10-14 November 2019, Hyderabad, India.

The program of IPPC2019 is aimed at addressing the key issues in crop protection against the backdrop of climate change and mounting pressure on natural resources to meet the growing need for nutritious and safe food, conservation of biodiversity and creating opportunities for economic growth.
The IPPC2019 will provide a great opportunity to present, discuss and disseminate the recent advances in crop protection, and establish contact and collaboration between crop protection scientists from different parts of the world. The deliberations of IPPC2019 will include plenary speeches and concurrent sessions in different disciplines of crop protection to create an awareness of the exciting advances that have been realized in addressing the challenges of nutritional, environmental and societal sustainability through innovative science, partnerships and an enabling policy environment.
Website: http://ippc2019.icrisat.org

Australasian Plant Pathology Society Conference
Strong Foundations, Future Innovations
25-28 November 2019, Melbourne, Australia

This conference will be the climax of the APPS 50th birthday celebrations, where we celebrate our "Strong foundations and highlight the latest advances in plant pathology that will lead to "Future Innovations".
Excellent scientific presentations by local and international speakers will be the backbone of our meeting, supported by engaging field tours and workshops allowing conference participants to experience plant pathology up close and to visit key agricultural sites in the areas surrounding Melbourne.
More Information: http://www.apps2019.org/index.php
Contact: info@apps2019.org

Australian Entomological Society 50th AGM and Scientific Conference – 2019 Conference
01-04 December 2019, Brisbane Convention & Exhibition Centre at Southbank Brisbane, Australia.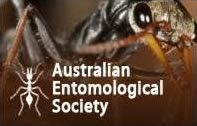 The conference will be jointly hosted by AES and the Society of Australian Systematic Biologists (SASB) as well as the Australasian Arachnological Society (AAS).
More information: Conference Announcement
Website: https://www.aesconferences.com.au

22nd Australasian Weeds Conference (22AWC)
25-28 October 2020, Adelaide, Australia.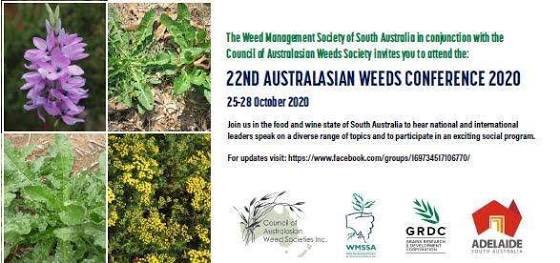 More information: https://twitter.com/austweedsconf

Events of other IOBC Regions:
IOBC-Global and West Palaearctic Regional Section, IOBC-WPRS:
http://www.iobc-wprs.org/events/index.html
Nearctic Regional Section, IOBC-NRS:
http://www.iobcnrs.com/index.php/events-calendar